In 1991, just after the fall of the Soviet Union, we did a 32-concert "Moscow to Mongolia" No Longer Music tour, where we had the opportunity to be the first Western band to play in Uzbekistan and Mongolia.
The tour resulted in 2,000 responses to the Gospel and several new churches (Read about it in my biography, "
Rock Priest
").
This summer, 24 years later, No Longer Music will be returning to Russia for the first time since that historic tour. We will be touring along with our new Steiger band from Moscow, called "Nuteki" - who attended the Steiger Missions School last summer.
With the current geopolitical and economic situation in Russia and Ukraine, this is both an incredibly important and challenging time to be proclaiming Jesus in Russia. We will be bringing our mobile stage trailer and are planning concerts in Moscow, St. Petersburg and other cities - so the impact could be huge! Though obstacles still remain. For example, we are still waiting for government permission in most cities, so please pray that God gives us great favor with government officials.
In May, before our tour of Russia, I will be speaking at a conference in Krasnoyarsk, Siberia. I am VERY excited about the doors God is opening for Steiger to have a long-term presence in Russia and I believe many thousands of young Russians will come to know the real Jesus this year!
Thank you for your prayers and financial support that make all of this possible!
David Pierce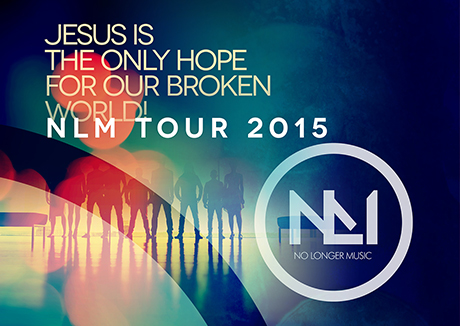 Support the 2015 No Longer Music Tour!
www.steiger.org/nlm2015
The world is on fire. From the ongoing war in Ukraine, unspeakable violence in the Middle East, to the brokenness in our very own country, it all can seem so hopeless!
But there is hope! The Gospel has the power to change the world.
This year, the No Longer Music teams will be preaching "Christ and him crucified" to more people in more countries (up to 14) than ever before - including Russia, Ukraine, Lebanon and Turkey.
We need radical prayer warriors and generous givers to partner with us in spreading the Hope of Jesus to those who are hopeless.
Go to
www.steiger.org/nlm2015
to partner with NLM in one or more of the following ways:
Sponsor a NLM concert ($2,500 per concert)
Adopt a team member ($50 per day)
Make a general donation of any size to support the tour
Join the 24-hour prayer chain
By partnering with us in prayer and finances you will be part of reaching thousands of unreached young people for Jesus!
Go to
www.steiger.org/nlmtour
for the tour schedule and more information about supporting the tour.
Follow the 2015 NLM Tour Online:
Blog:
www.steiger.org/nlmblog
Facebook:
www.facebook.com/steigerint
Instagram:
www.faceobok.com/nolongermusic
Twitter:
www.twitter.com/steigerint
Vimeo:
www.vimeo.com/steigerint
Join the No Longer Music
24 Hour Prayer Chain
To sign up to pray for NLM for 1 hour every week for the duration of the tour, please go to:
www.steiger.org/nlmprayer
You will receive regular prayer requests throughout tour.