In June, during a Hope Beyond Fear outreach, the Steiger Poland team took to the streets. Early on in the day, Ania Greenwood met a girl named Wiki. Though she said she was an atheist, she agreed to let Ania pray for her.
As Ania prayed, Wiki felt an overwhelming sense of love and began to laugh and cry. "What is this?" she asked.
Ania explained the Gospel to her and shared the miracle of the Cross. At that moment, Wiki gave her life to Jesus.
But the mission of a Steiger City Team doesn't stop after communicating the truth of the Gospel to the Global Youth Culture. That is only the beginning. Whenever we can, we live in continual discipleship with those we meet. It is there that we get to witness the transformation that God's redemptive power brings.
The following day, Wiki went with the Greenwoods to a local church and began meeting weekly with Ania. They read the Bible together and prayed that God would show them what it means to know Him as a Father. It was an especially relevant subject for Wiki, as she had lost her father to a drug overdose when she was seven years old, and now had an alcoholic and violent stepfather. Her mother, too, struggled with alcohol abuse and Wiki herself had a drug and alcohol addiction.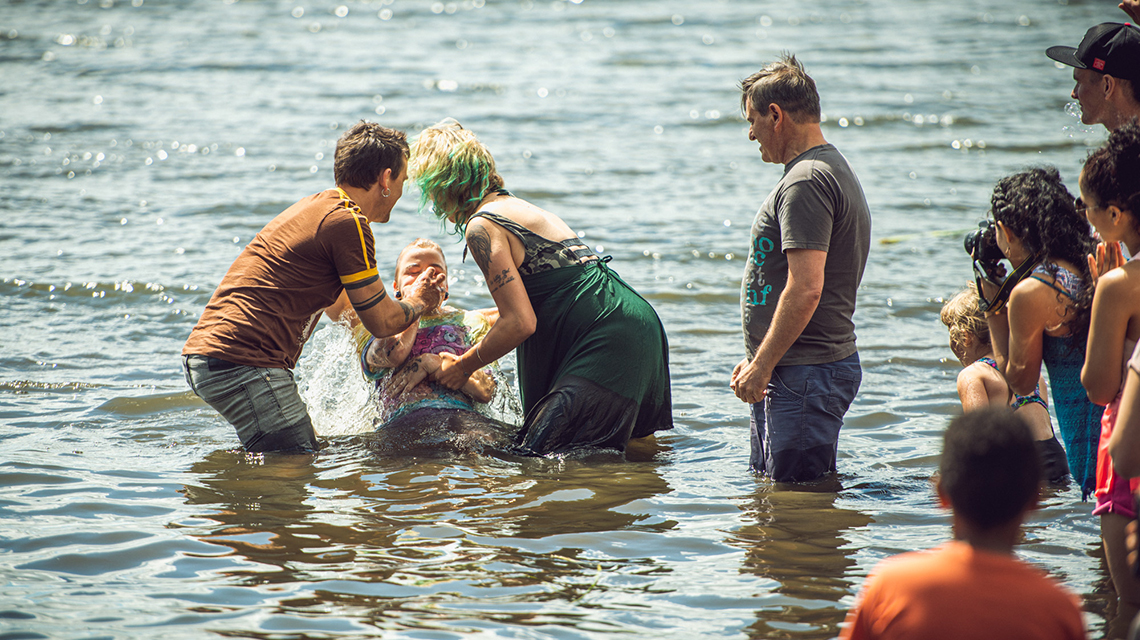 The old is gone, a new life has begun!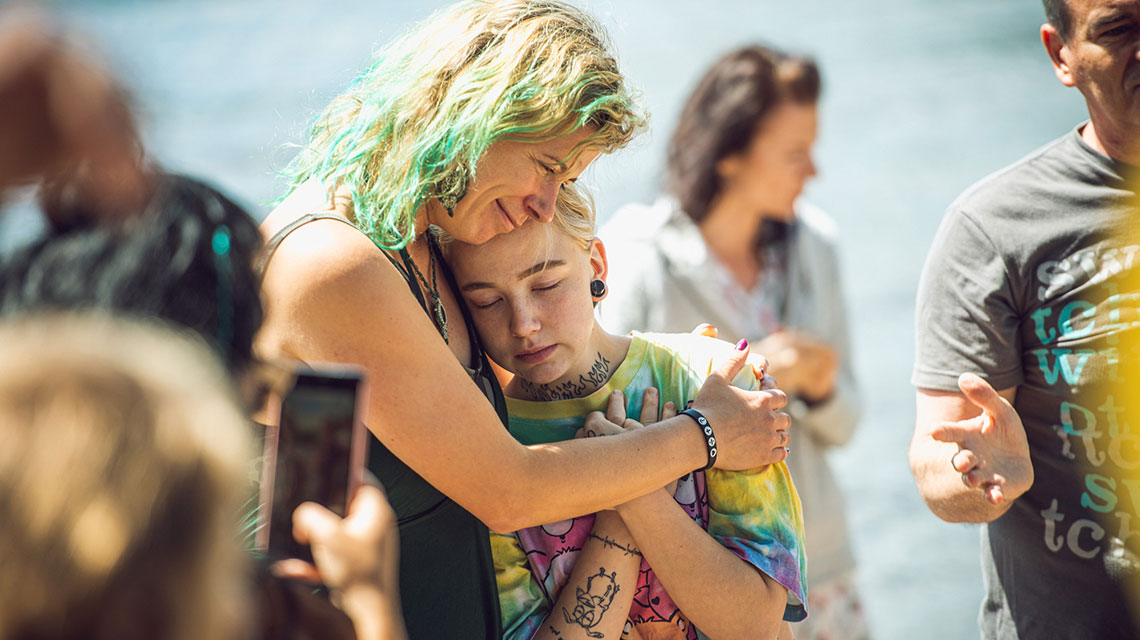 Ania with Wiki - finding Jesus and a true family
Through ongoing discipleship, Wiki has come to see God as her true Father and has begun to trust Him to take care of her and her family. Wiki and her mother are now free from their addictions and her stepfather checked himself into a rehab center. God is so good!
When the Steiger Poland team went on a mission trip in July, Wiki joined them. During the week, she connected with five young guys in the town and shared her story of redemption. She understood their feelings of emptiness and their desire for purpose because it was exactly how she'd felt before meeting Jesus. At the end of the week, Wiki invited the five guys to come to her baptism. They had never seen anything like it! Afterwards, three of them gave their lives to Jesus and decided to stay in contact with her and get involved with their local church.
Wiki is now part of the Steiger Poland family. Ania continues to spend time with her and they love evangelizing together. God has been faithful to bring Wiki's story full circle: from evangelism, to discipleship, to baptism, and back to evangelism. Even still, it is only the beginning!
A Rallying Call to Prayer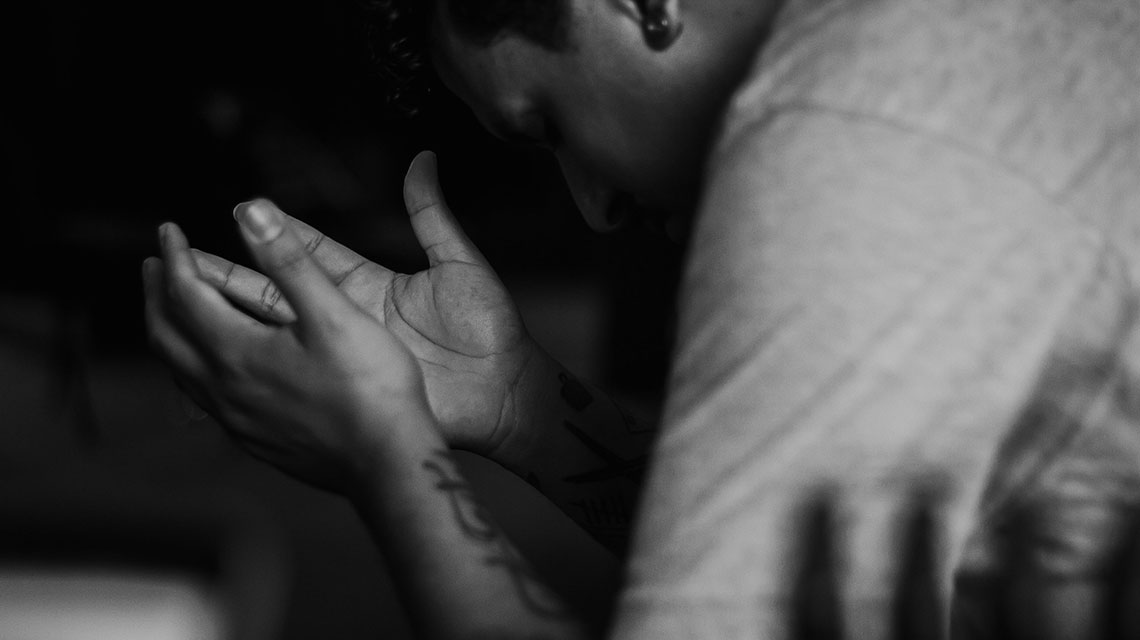 Seek God with a desperate heart.
These words are not foreign to our Steiger family. In fact, we just celebrated putting those very words on the wall of our Minneapolis (USA) office. Big, bold letters that stand out like a rallying call - one we answered in a very intentional way at the beginning of the year.
We started the Steiger 24/7 Prayer Chain on January 1, 2020, but as the month was coming to an end, we knew We are crying out to God for clear direction and discernment! we couldn't stop. We've been praying desperately ever since for a supernatural move of God, and we have been seeing it unfold! Even in the midst of a global pandemic marked with social and political unrest, our mission has continued to grow. Our Online Compact Schools catapulted many of our Latin American and European City Teams years ahead of where we had expected, and we're seeing a breakthrough in our US cities since we took to the streets to share the Gospel during the nation's protests.
This month, we are sending out the rallying call again. We know that our vision for this mission does not come from us, but from God. It has to - otherwise, we would never be equipped to plan for the future amidst so much uncertainty. So we are crying out to Him together, asking what He wants for us this year, and for missional direction and discernment in what is keeping us from getting there. We know that when we seek God desperately, He reveals His will to us - and His deepest desires become ours.
Learn more about how you can take part in Steiger's 24/7 Prayer Chain at: www.steiger.org/prayer2020
Hope for the GYC Tour in Europe and the Russian Speaking World

Though a growing number of the Global Youth Culture has no interest in stepping foot inside a church, we believe that their story isn't over. There is hope for this generation! Our heart is to bridge the gap between the Church and global youth. A big part of this is equipping local churches to effectively and relevantly reach and disciple them. Steiger's Hope for the Global Youth Culture Tour is combining speaking and practical training to engage with churches all over the world - and the COVID-19 pandemic isn't stopping us!
In August, the Steiger Russia team visited three cities with the tour. It was a first for the region and participants were excited! In one of the cities, members of 11 different churches learned about the Global Youth Culture and took their first steps in getting outside the church to reach them. The tour was so inspiring and encouraging, not only to the churches involved, but also to our team in Russia! As a result, over 500 people personally heard the Gospel, and many of them have already come to a service at one of the local churches.
As restrictions lift in some of the other European and RSW countries, we are making more plans for in-person seminars and outreaches. We already have events planned in 12 countries, and we are open to planning more as God opens the doors!
Check out the tour's web page to see if we're coming to a city near you: www.steiger.org/hope4GYCtour