"I think I'm ready. What time is your church prayer, mass, meeting or whatever you call it?" This was the message, Alex, one of our Steiger Brasil team members received from a well known São Paulo rock musician.
A few nights ago, some members of our Steiger Brasil team went to see a well known band in São Paulo, with whom we have been able to build a close relationship. Over 600 people gathered in a beautiful arena to see the band play and afterwards, we were able to spend time talking with them about life.

A few of the members of the band are very interested in Jesus and came to our church last week. Yesterday they told my wife, Ania, that they would like to start a Bible study together!

January is an intense month for Steiger Brasil. The Compact school (a two week intensive course equipping people to reach the secularized global youth culture) has just begun with around 40 people on full time participation and then an additional 40 attending the evening classes. There are people from 5 different states in Brazil. Everyone is very excited about the topics and the opportunity to spend time with God, seeking to understand more about His calling on our lives.

Also, a week ago, the band "White Collar Sideshow" from the USA arrived in Brazil. They attended the Steiger Missions School in Germany last year and they are here for their internship before becoming Steiger missionaries. Our team has put together shows for them on most weekends while they are here. It is awesome having them around, being part of our community house and meeting people around São Paulo.

Please pray that God will continue to move through Steiger Brasil.

Luke Greenwood


Calling all Renovators!!!


Steiger Krögis, located in east Germany, is Steiger's international, visionary and creative center. It is the starting point for Steiger ministries and missionaries called to reach the world for Jesus.

In order to increase the use of the Steiger facility, the property requires some renovation and we are looking for teams of people to help us with this. Skills needed include plumbing, electrical work, building, roofing, plastering, painting, brick laying, tilers, general laborers.

We especially could use help in early March, 2015. There is plenty of work to do, whether you bring a large church group or come as an individual.

Please contact Kersten Lang at This email address is being protected from spambots. You need JavaScript enabled to view it. for more information.
NLM DVD "Live in Minneapolis"
We are excited to announce the digital release of the new No Longer Music live DVD!
To watch and share go to:
vimeo.com/nolongermusic/livedvd
Physical copies will be soon available on the Steiger website.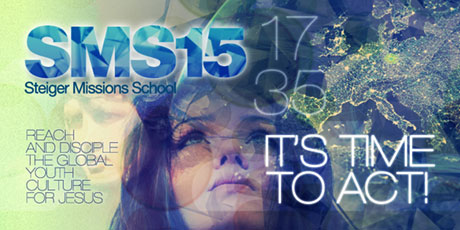 Apply NOW for Steiger Missions School!
The application deadline is March 1
2015 Steiger Missions School
Steiger Krögis (Saxony, Germany)
June 12 – August 20, 2015
Unhook, hear God and be prepared to reach the Global Youth Culture. SMS15 is Steiger's 10-week intensive training course for those who feel called to bring Jesus to the Global Youth Culture. It is a requirement for those who want to be Steiger missionaries.
Apply online:
www.steiger.org/sms